Welcome to Bob's Auto Repair!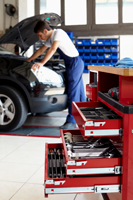 Bob's Auto Repair is your one-stop-shop for everything you need to run your transportation. We've been in business since 1985 and we specialize in transmission repair.
Our first priority at Bob's Auto Repair is customer satisfaction. We understand that your vehicles are a major investment and we go out of our way to ensure that they are serviced properly.
Fixing your car is about trust! We believe in growing with our customers. So your success is our success. We work hard to actively listen to our customers.
---
Some Of Our Services:
Auto Repair
Air Conditioning
Air Filters
Alternators
Anti-lock Brakes
Axles
Batteries
Belts
Brakes (disc & power)
Cabin Air Filters
Check Engine Light
Clutch Repair
Computer Scanning
Cooling Systems
Diagnostics
Diesel Diagnostics
Electrical Service
Emergency Service
Engine Controls
Engine Repair & Rebuild
Estimates
Exhaust System
Fluid Checks
Flushing
Fuel System
Heating System
---